STOCKing | Dresden
Nov 23, 2018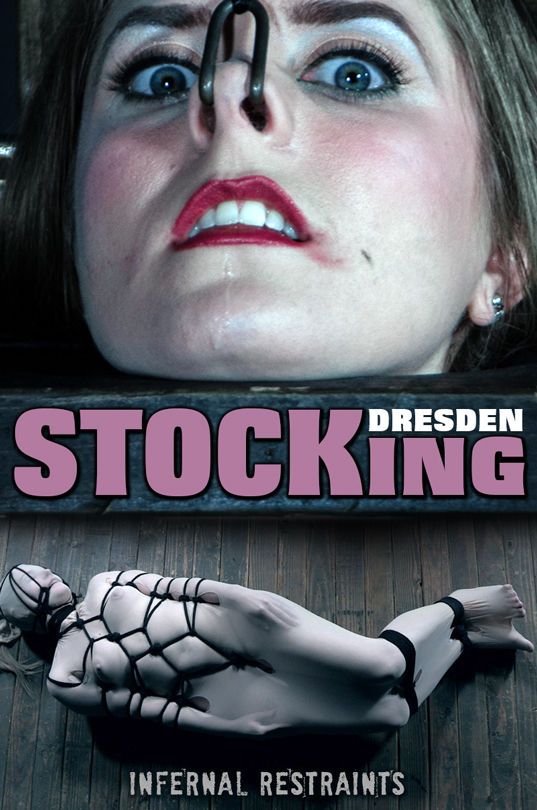 Dresden is caught in two sets of stocks. One holds her ankles and one holds her wrists and neck. She's made to stand while her clothes are ripped from her body, while her nose is hooked, while she's whipped to tears. Her body is exposed and she's violated.

One of her best features is on the chopping block next. Her ass is exposed and it too must face an assault. The whip makes her cry and scream. She's brought to the edge of her limits.

The stocking covers her entire body. The black ropes run tightly around her body. The knots bite in to her tender flesh. Her face is wrapped in thin rope. She's pulled into a tight hogtie.
Rosey Cheeks | Dresden
Nov 7, 2018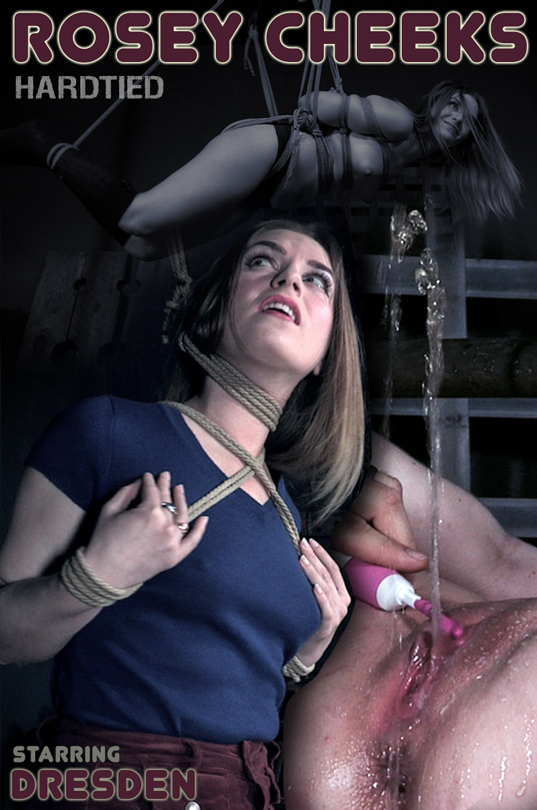 Dresden's got the buns for a good hard spanking. Some women need the cane, the whip, the paddle. Some women you have to hit with things. Dresden's the type of girl who you need to get in there with. You have to use your hands to redden her butt.

Once they are nice and red it's time to get more serious. Whips and floggers are lovely on a warm ass. Dresden's a little pain girl so there has to be something new to torment her with. Let her think she's going to cum and then take the vibrator away?

Dresden is teased over and over and over again. Each time she's denied. Once she is allowed to cum she's made to cum over and over and over well past where is comfortable. The vibrator is relentless.
Earning Stripes Part 3 | Dresden


Oct 15, 2016


168 Images • 62:25 Min Video

Hot Times, Hanging, and Humiliation

In the third and final installment of Dresden's live feed, she is in for the most brutal and disgusting humiliation of her life. We here at Real Time Bondage have had a great time with her for this feed and won't soon forget it, so we need to make sure she won't either. And after what we put Dresden through today, it isn't likely that she will be able to, even if she might try her best.

First, Dresden needs to relieve herself, so we take out the metal bucket and she crouches over it to do just that, but it isn't happening for her. Who knew girls can get pee shy too? She tries and tries, but after fifteen minutes all she's been able to get out is a weak stream while she giggles and sighs at the frustration. Then, suddenly, she regains her confidence and gets done what she needed to do, with a little help from O.T. using a hitachi to vibrate her stomach. Dresden is already so humiliated from her failure to perform one of the most basic human functions, but we haven't even gotten involved yet, so we decide to make that a little bit worse.

We suspend Dresden upside down by her ankles, her legs spread and her arms tied behind her back. Then we place a fish bowl under her and lower her head down into it. She says it feels weird, like everything she says aloud sounds like Darth Vader. Then the fun really starts. We pour the metal bucket she took her pitiful piss in into her fish bowl so that she is swimming in her own piss from the top of her head to her nose, we even dump some mushy banana to make it feel even more gross for her. Then we take out the celebrator vibrator and see just how good we can make her feel while she's feeling so bad.
Earning Stripes Part 2 | Dresden


Oct 1, 2016


214 Images • 43:30 Min Video

A Few Lashes Leave a Lasting Impression

Dresden is a filthy little slut and she knows it. Or if she didn't before it is going to be made painfully clear to her by the end of her time with us. As everyone knows the best way to make someone really look at themselves and who they are as a person is to break them all the way down to their core, so that is exactly what our handlers are going to do. First through complete abject humiliation, and then through pure, simple, terrible pain.

Dresden starts out this session in the racks with her legs and arms spread, her entire naked body completely exposed to us. The next step is to make her look as ridiculous as possible. Two of our handlers take turns covering Dresden's face in spit. Her makeup runs down her face with the streams of saliva. It is absolutely disgusting and she looks pitiful. But that isn't enough. We remove her fake eyelashes and put them on her upper lip like a false mustache. It's clear from looking at her that she knows just how silly she looks and she doesn't like it very much.

Then it's time for the pain portion of Dresden's day with us. We suspend her from the ceiling by her wrists, just high enough that she is made to stand on her tip toes and her whole body looks stretched out. Our two handlers then each take out a whip and start tearing into the soft flesh of her tits and her back. Each time one of the lashes lands on one of her nipples, Dresden recoils and shrieks. But it's not over until O.T. canes that fine ass of hers. She squirms away but there is only so far you can go when you are chained in place. Soon enough her body is covered up and down with marks from the abuse she's been receiving. And we haven't even gotten to her feet yet.
Earning Stripes Part 1 | Dresden


Sep 24, 2016


169 Images • 59:39 Min Video

Pain-Seeking Babe Finds Herself in a Pinch

Today Dresden is going to find herself in a pinch. Actually, that might be the understatement of the century, since she is going to spend her day having her skin smacked and squeezed until her ass turns an impressive shade of red. The rest of her, meanwhile, is going to look about as polka dotted as the sexy little dress she wore for us today.

Before we jump into the scarier stuff Matt wants to make sure Dresden is prepared for whatever torment he has ready for her so he starts in with something simple. He sticks a red ball gag in her mouth and bends her over his knee and spanks her harder than she's ever been spanked. She squirms and tosses around but there is no getting away from it. If she's reacting like this to some spanking, who knows how she is going to get through the rest of today's session.

Next thing Dresden knows she is tied in place with her legs spread wide open for all to see. Matt hooks some nipple clamps onto her tits and tie them down to the floor with some string to better hold her in place. Then he covers her entire face with clothespins until she looks like a porcupine. She is hurting and squirming but the pain cannot possibly compare to the level of humiliation she is currently experiencing. Matt's a nice guy, though, he wants her to have some fun, so he takes out his hitachi vibrator and puts it right on her clit. Uncomfortable whimpers turn into moans and it's all Dresden needs to get her ready for the rest of her live feed.